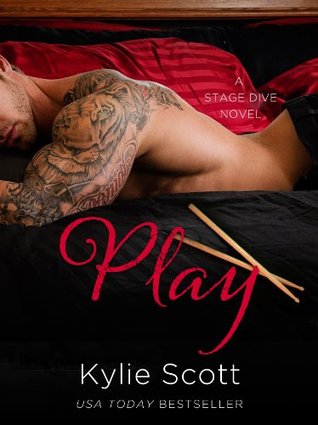 Title: Play (Stage Dive, #2)
Author: Kylie Scott
Release Date: March 25, 2014
Genre: New Adult Contemporary Romance
Source: NetGalley eARC

Kylie Scott returns with the highly anticipated follow-up to international bestseller LICK.
Synopsis
Mal Ericson, drummer for the world famous rock band Stage Dive, needs to clean up his image fast—at least for a little while. Having a good girl on his arm should do the job just fine. Mal doesn't plan on this temporary fix becoming permanent, but he didn't count on finding the one right girl.
Anne Rollins never thought she'd ever meet the rock god who plastered her teenage bedroom walls—especially not under these circumstances. Anne has money problems. Big ones. But being paid to play the pretend girlfriend to a wild life-of-the-party drummer couldn't end well. No matter how hot he is. Or could it?
Review
4.5 stars
Goodness gracious, what a story!
I had my doubts about Mal when I had read Lick. He seemed way too out there and I didn't think he had much depth, but man was I proved wrong!
Kylie Scott didn't waste any time drawing me into the story. I loved how Mal and Annie met, their initial interaction and what ensued next. Although it all started as an arrangement, I could see that they was some sort of connection there and with each interaction–crazy, honest or flirtatious–that connection grew and strengthened.
I loved Mal story! And what is more is that I loved Mal with Anne. She was the perfect yin to his yang. She was fun and sweet but strong and independent. She gave as good as she got, but melted whenever he grinned her way.
I was surprised to find that Mal was so complex. he was the first one with a sarcastic remark or making light of any situation, but underneath it all he had a great heart and it was a treat for me whenever I got a glimpse of if. My only wish I could have gotten a chance to get into his head. I'm sure the story would have been even more touching and much more enjoyable to me.
Thankfully, Kylie Scott made sure that enough of Mal's eccentric personality and vulnerability shined through across his actions and interactions with Anne, so I could easily overlook not having his POV.
Although not an angsty story, Kylie Scott brought a whole range of emotions to the page. Be it frustration over the attraction that simmered between them, the fear of giving in and falling hard or the heartbreak at having to face the truth, every emotion brought to the page was intense and placed just right to impact the reader.
Don't even get me started on chemistry! Wow, those two really had it going on. Their first kiss alone was a scorcher and everything else just kept getting better, especially as their emotions came into play. I loved it when they let unleashed their passion just as much as I enjoyed them opening themselves to one another. Very nice, indeed!
Keep in mind that although this is the second book in the Stage Dive series it can certainly be read as a stand alone. But then again, why would you miss out on another rock-star romance and on the chance to see Mal being his outrageous self. 😉
All in all, a great addition to the series which told the story of how a chance meeting brought together two different people that found each other and love when they least expected it.
*I received an copy of this title through NetGalley in exchange of my honest opinion.
About the Author
USA Today Bestselling Australian Romance Writer.