There You Stand (Between Breaths #5)
by Christina Lee
An M/M Romance
From Penguin/InterMix
Released April 21st 2015
From the author of All of You and Before You Break comes a new Between Breaths male/male standalone romance about the silent, inked up skateboarder and the tattoo artist who unravels him piece by piece…

Tattoo artist Cory Easton has worked long enough at Raw Ink to know, just by looking at a dude, what his body art reveals, what makes him tick, what even makes him scared. Until he meets the quiet and remote Jude York—so unreadable, so unreachable, and so unlike anyone else, he can't help but arouse Cory's curiosity.

As captivating and complex as his ink, Jude is a mystery—and Cory's falling fast and hard under his spell. Against his better judgment to steer clear.

The rumors of Jude's past overshadow him—whispers of prison and an unmentionable secret that's kept him in the protective shadows of a local motorcycle club. As Cory probes deeper, he wonders how much he really wants to know. Especially since Jude has awakened something inside him that has been buried too long—and has him feeling completely alive for the first time in forever…
Review
Ohhh this book!!!! I loved it! It was so frustrating and intriguing and HOT!
Cory is going through the motions of his life–working, spending time with his dogs, taking care of his grandmother. He's not actively looking for a relationship, but he wouldn't mind getting to know a certain skateboarder more closely. Ever since the stranger came to town, Cory has crushed on him hard. But the man is an enigma and Cory is about to find out he's that and much more.
Jude is quiet–very quiet. I wouldn't say he's shy, he just keeps to himself a lot and once you read his story you will understand why. But let me tell you that it was frustrating as hell for me to deal with. In the beginning, Like Cory, I had been disturbed by the constant silence from Jude. And just like him, I learned to bare with it. Of course, I would have appreciated having Jude's POV, but Cory learned Jude's every nuance and through him I got to know Jude inside and out. And I loved what I saw!
In the last few weeks, I've been catching up on the series and have come to enjoy Christina Lee's writing. I've loved her characters so far, but I must say these two are my favorites. I loved Jude's complexity–his quiet side, his passionate nature and his caring and protective ways. Cory was fun, more outgoing and laid back, which made him a great partner for Jude. I loved them together. They complemented each other both physically and emotionally. I appreciated their growth throughout the story which led them to explore and accept what was growing between them.
Like I said, this pairing was hot. Jude and Cory shared an intense chemistry which was always present in their every interaction. But more than that, they managed to establish and deepen their connection along the way. Stolen touches, meaningful looks or just plain standing facing each other, their connection was a present entity and undeniable.
Keep in mind that although this is the fifth book in the series, it is completely a stand alone story. Yes, I played catch-up with the series but only because I'm wired that way. And even then, I still have one book to go. M/M Romance is my favorite genre and I just could NOT wait to start this story, so I went against my nature and skipped book 4.
All in all, a sweet yet intense romantic story about second chances in life and finding true love.
*I received a copy of this title in exchange of my honest opinion.
Excerpt
"Come inside, please."
I followed him through the door, telling myself it was only to get Chopper acclimated. But Chopper seemed right at home as he bound to the kitchen and lapped at the water in the dish that Jude had set down.
"I can't stay long," I said, feeling almost shy, like it was my first time at his place. "I have a shift at Raw Ink."
He nodded. "I just finished my morning at the Board Room, but I'll be heading to the skate park."
"What was that one trick I saw you practicing the other day?" I asked, watching Chopper sniff around the room.
"Hmmm . . . the one-eighty pop shuvit?" he said, shrugging. "The one I really want to trick out on someday is the upside-down three-sixty loop. But I need a pipe for that. They'll have one at the arena for the upcoming games."
"A pipe?"
"A curved wall with a lip so that I can hang upside down."
"Holy Christ, you're going to maim yourself," I said.
He laughed. "It's a difficult trick but I'm definitely up for the challenge."
Suddenly he grabbed my face and backed me against the wall, kissing me hard and deep and desperate. Like he was releasing it all—giving it all to me. "I don't want to talk right now. I want to taste you."
I groaned and wormed my body closer, reaching behind him to grab his ass. We were both instantly hard and he ground his hips against me.
"Every damn night I've dreamt of you," he said against my lips.
I pulled back to look at him. "You have?"
"Oh yeah." His gaze fastened on mine. "I knew I couldn't have you, so the next best thing was the fantasy of you."
"Same here," I said. "I'd lay in bed and jerk off to thoughts of you."
He panted against my mouth. "What did you think about?"
"This," I said. "Your hands on me, your lips all over my body."
"God," he groaned. "And here you are. Right in front of me. And I want nothing more than to have all of that and more with you."
He backed me down the hallway, yanking off my shirt and unbuttoning my pants.
It felt so urgent, like we were running out of time. Not only because I had a job to get to, but also because I never felt certain of how many more days we might have left.
"I need to touch you," he said, hemming my thighs against the bed, and forcing me to lean back.
Between Breaths series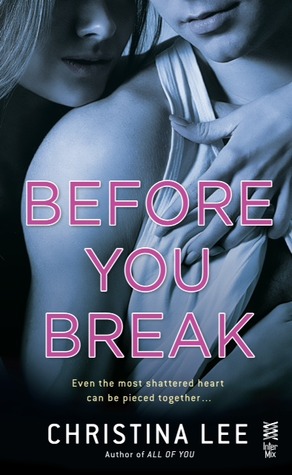 All of You (Between Breaths, #1)
Before You Break (Between Breaths, #2)
Whisper To Me (Between Breaths, #3)
Promise Me This (Between Breaths, #4)
About the Author
Mother, wife, reader, dreamer. Christina lives in the Midwest with her husband and son–her two favorite guys.
She's addicted to lip gloss and salted caramel everything. She believes in true love and kissing, so writing romance novels has become a dream job.
Author of the Between Breaths series from Penguin. ALL OF YOU, BEFORE YOU BREAK, WHISPER TO ME and PROMISE ME THIS available now. Book five in the series, THERE YOU STAND, coming in April, 2015.
Also, her Adult Contemporary Romance, TWO OF HEARTS is releasing on May 5th, 2015.
Website | Facebook | Twitter | Goodreads | Instagram
Related Posts–Reviews