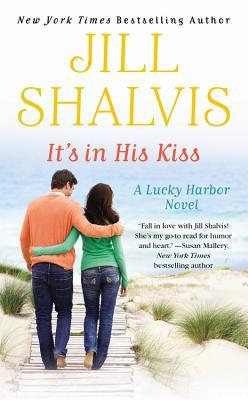 It's in His Kiss
Lucky Harbor, #10
Contemporary
Grand Central Publishing
August 26th 2014
e-ARC
Netgalley
ONE KISS CAN LAST FOREVER
Becca Thorpe has uprooted her life and escaped to the beach. Now's her chance to get away from city living, throw caution to the ocean winds, and live in the moment. Especially if the moment includes the deliciously sexy surfer she meets shortly after arriving in Lucky Harbor. Something about the dark intensity of Sam's eyes and the thrill she gets at his touch convinces her to stay awhile.

Boatbuilder and investment genius Sam Brody is a self-made man who knows how dangerous it can be to mix business and pleasure. But he can't resist offering Becca a job just to hear her laugh and have her near. Yet when her brother comes to town asking for help, will he tempt her back to her glamorous life in the city? Or do Sam and little Lucky Harbor have a chance to win Becca's heart?
Review
After years of being under her family's constant scrutiny, Becca
decides to start anew in Lucky Harbor. Her first encounter with the owner of the warehouse next to her apartment leaves much to be desired, but she's determined to make this work. In any case, despite giving her the cold shoulder, the man sure works as eye candy.
Especially since she has decided to give up men and romance for the time being.
Sam doesn't do emotional entanglements of the any kind. He counts his childhood friends and business partners as family and that's as far as his relationships tend to go. But that doesn't stop him from lusting after the cute, quirky woman who moves next door to his warehouse. Soon he comes to care for Becca and goes out of his way to help her–as a friend.
One thing I've come to expect from Jill Shalvis is the easy way she transitions the characters from friends to lovers bringing forth their emotional connection along with their chemistry in a way that's
believable to me. Even though this story moved a bit too fast for me, I still think that Jill Shalvis did a wonderful job in establishing and developing Sam and Becca's initial connection.
Through flirty banter, humorous dialogue and a handful of emotional moments, Sam and Becca's romance blossomed from from that of new friends to something more. It help tremendously that she didn't shy away in bringing Sam's emotions to the page–both as an
individual struggling with his past and as a man conflicted over his overwhelming feelings towards Becca.
All in all, a swoon-worthy, romantic read–brooding alpha-male and all! I can't wait to read what's in store for the other boys. 😉
*I received a copy of this title in exchange of my honest opinion.