Deep (Stage Dive #4)
by Kylie Scott
A New Adult Romance
From St. Martin's Griffin
Released March 31st 2015
Positive. With two little lines on a pregnancy test, everything in Lizzy Rollins' ordinary life is about to change forever. And all because of one big mistake in Vegas with Ben Nicholson, the irresistibly sexy bass player for Stage Dive. So what if Ben's the only man she's ever met who can make her feel completely safe, cherished, and out of control with desire at the same time? Lizzy knows the gorgeous rock star isn't looking for anything more permanent than a good time, no matter how much she wishes differently.

Ben knows Lizzy is off limits. Completely and utterly. She's his best friend's little sister now, and no matter how hot the chemistry is between them, no matter how sweet and sexy she is, he's not going to go there. But when Ben is forced to keep the one girl he's always had a weakness for out of trouble in Sin City, he quickly learns that what happens in Vegas, doesn't always stay there. Now he and Lizzie are connected in the deepest way possible…but will it lead to a connection of the heart?
Review
As a follower of this series, I grew curious about Ben's story. He appeared to be such a great characters that I wanted to see if there was more to him that what I had glimpsed in previous installments. Thankfully, I was right and then some!
Lizzy is Anne's sister, Mal's wife. We met her in Play while Mal and Anne were getting together. She seemed to be a great character to get to know, but I admit that I didn't pay her much attention. But that was mainly because I was so engrossed in Mal and Anne's story that everything and everyone fell my the wayside!
Now she finds herself pregnant and trying to deal with the repercussions of her one-night stand with Ben. Ha! Talk about a surprise! I was not expecting that at all. But then again, Kylie Scott always manages to surprise me one way or another.
This time around, I found surprises in every turn. Be it Ben's reluctance to commit, Lizzy's determination to make it on her own regardless of Ben's good intentions or the powerful chemistry that existed between these two.
Sure, the one-night stand pregnancy trope has been done many times before, but it's always nice to see it done a different way. What I enjoyed most about this story was that it wasn't all prettied up for the sake of a happily ever after. There were plenty of outbursts and rampant emotions. But there were also a lot of honest interactions that made a relationship between these two difficult to achieve.
"Why are you here?" I reached back behind my head and grabbed his wrists, stilling him. "Ben?"
"Because apparently I'm shit at staying away from you."
"Then I guess we have a problem." Our fingers meshed, holding on tight.
"That's putting it fucking mildly."
Ben sure had his moments. Pffft! I lost the count on how many times I wanted to throttle him. Sometimes he came across as a real jerk and I just could not stand it. However, these moments were blended with raw, honest ones and lust-fueled ones too. So it made for a great balance and a perfect chance to get to know him better.
As for Lizzy, well she was fun and I enjoyed her journey. From the very beginning when she found out she was pregnant all through to the end when she stood for what she believed regardless of the consequences, Lizzy kept me interested in her story. I enjoyed the process of getting to know her and I especially enjoyed watching her grow and mature.
As I stated before, the chemistry between Ben and Lizzy was very powerful and sparks never failed to fly whenever they were together. However, what cemented my belief that these two were perfect for each other was the way they communicated honestly. She never pressured Ben and although clueless to his feelings towards Lizzy Ben never failed to provide her support. Maybe his methods weren't perfect, but his intentions were always in the right place and I had to admire that about him.
"What do I do?"
"Give me a chance to catch up."
I just stared at him, trying to keep my cool. Took two to tango, yada yada.
"I'm serious." His shoulders heaved up and down. "Just give me a chance to catch up and I promise, Lizzy, I will have your back."
Keep in mind that although this is the fourth book in the Stage Drive series it can be read as a stand alone. Characters from the other books make an appearance and come to play part in the story, but the author made sure that everything was clear for the reader to follow along.
For me this story was a treat to read. I got to appease my curiosity about Ben, go on tour with the band and visit with some of my favorite characters. Mal still cracks me up and continues to be my favorite, but all the others were awesome too.
All in all, an awesome conclusion to the series that tells an amazing love story. It was fun, romantic and everything in between. Well done Kylie Scott! I will miss these guys, but I am so very glad I had a chance to read heir stories.
"Relax."
"You try relaxing with a huge boner rubbing against your back. I'm trying to break up with you – not that we're even together – and your penis is not helping."
*I received a copy of this title in exchange of my honest opinion.
Excerpt
"C'mon. How have you been, really? What's been going on with you?" he pushed. I frowned at him and he frowned right back. "Liz, please."
I groaned in defeat. "All right, I suck."
"Why do you suck?"
"So very many reasons." I pushed my hair back from my face—no more hiding. "Pregnancy sucks. It's natural, my ass. I finally stop throwing up, but I'm tired all the time. Giving up coffee was horrendous. None of my clothes fit right because of these stupid breasts, and they ache constantly. I have to pee like every thirty seconds, and then to top it off, I cry every time the Healthy Hound ad comes on. It's ridiculous"
Little wrinkles appeared either side of his nose. "You cry at a dog food ad?"
"Yes. The puppies jump all over each other to get to their mother and it's just so beautiful, with their cute little tails wagging and everything."
He just stared at me.
"I know its psycho, Ben. Believe me, I'm well aware of this."
"Hey, it's fine." He covered a smile with his hand. Too late, the bastard.
"You try dealing with all these hormones going apeshit. Crap. Apeshoot."
"Apeshoot?"
"I'm trying not to swear," I explained. "You want the first word our child comes out with to be something bad?"
"No. Gotcha." The man was incredibly bad at hiding a grin. "No swearing."
Stage Dive Series

Lick (Stage Dive, #1)
Amazon US | Amazon UK | Barnes & Noble | Kobo | iBooks
Play (Stage Dive, #2)
Amazon US | Amazon UK | Barnes & Noble | Kobo | iBooks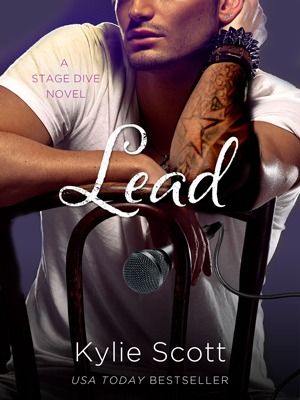 Lead (Stage Dive, #3)
Amazon US |Amazon UK | Barnes & Noble | Kobo | iBooks
About the Author
USA Today Bestselling Australian Romance Writer.
Kylie is a long time fan of romance, rock music, and B-grade horror films. Based in Queensland, Australia with her two children and one delightful husband, she reads, writes and never dithers around on the internet.
Website | Twitter | Facebook | Goodreads | Email